Fall 2016 Events
Brunch with Beck
On November 30th from 11:30 a.m. - 12:30 p.m. in the President's Courtyard located in University Hall, Student Government and President Ericka Beck hosted brunch! This was the perfect opportunity for students to get to know their president better and ask her questions. All questions and answers from this event were recorded and can be found in the document below. Any unanswered questions have been submitted to President Beck and we will update the below document as soon as possible. 
Questions and Answers (MS Word, 20.8KB)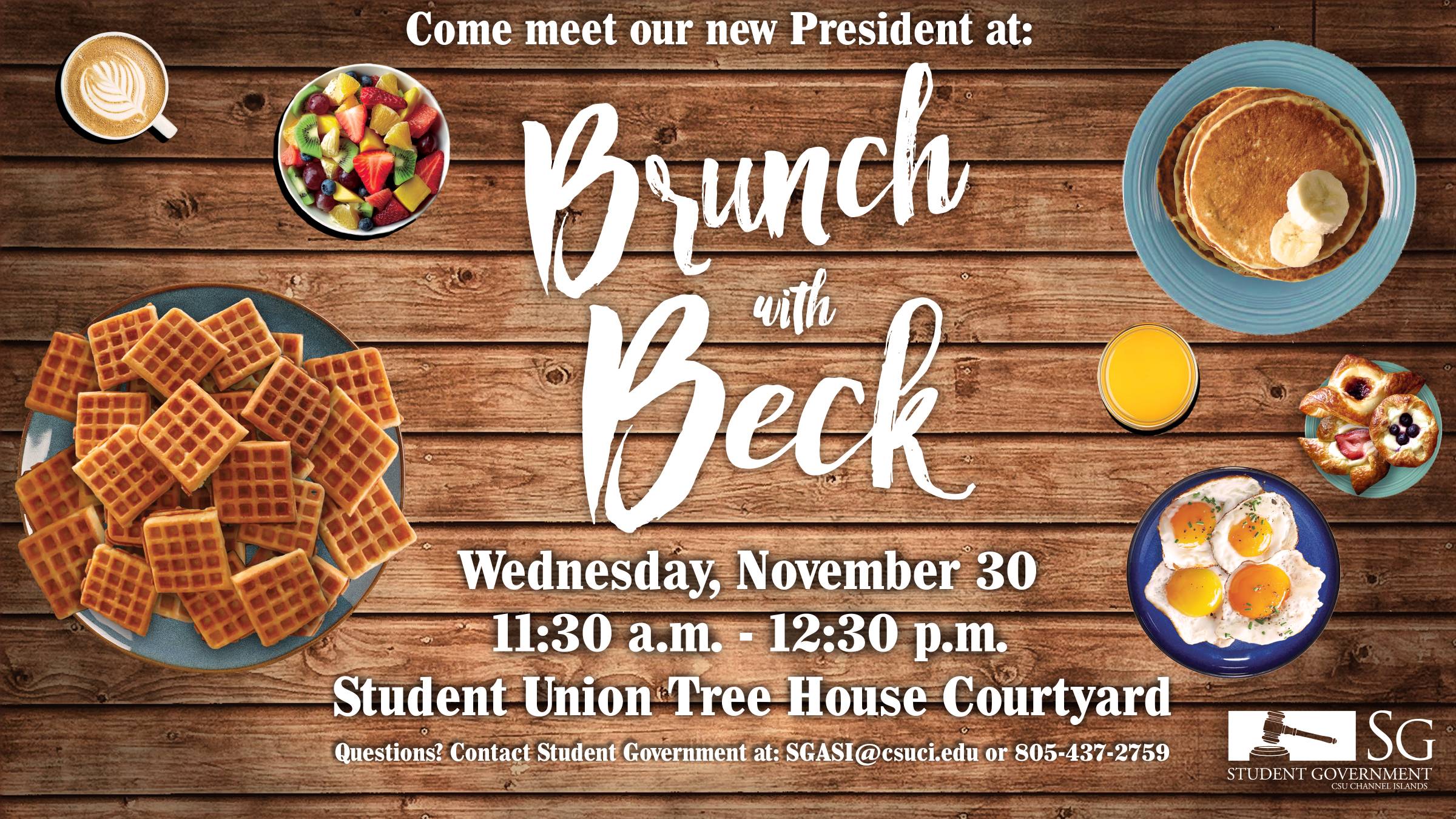 Spring 2017 Events
Active Shooter Event
On Tuesday January 31st from 4:30pm - 6:00pm Student Government and the Police on campus came together to create a training for the CI community to be prepared in the case of an active shooter being on campus. This event was in Bell Tower 1302.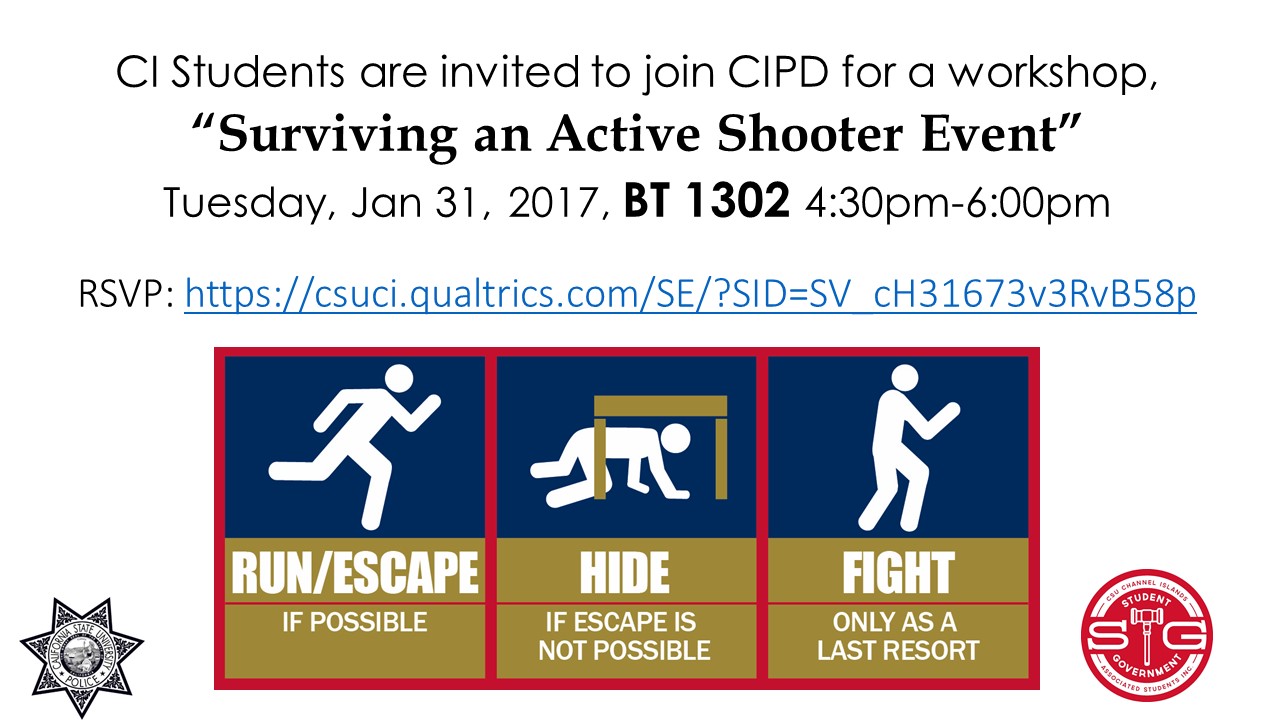 Smooth Talk with Doc
On Wednesday February 15th Student Government and our Vice President of Student Affaris, Dr. Sawyer, came together to create an opportunity to ask Dr. Sawyer questions and get to know him better. Student's that attended this event enjoyed smoothies with Dr. Sawyer! This event was in the Student Union Treehouse Courtyard from 11 a.m. - 12 p.m.!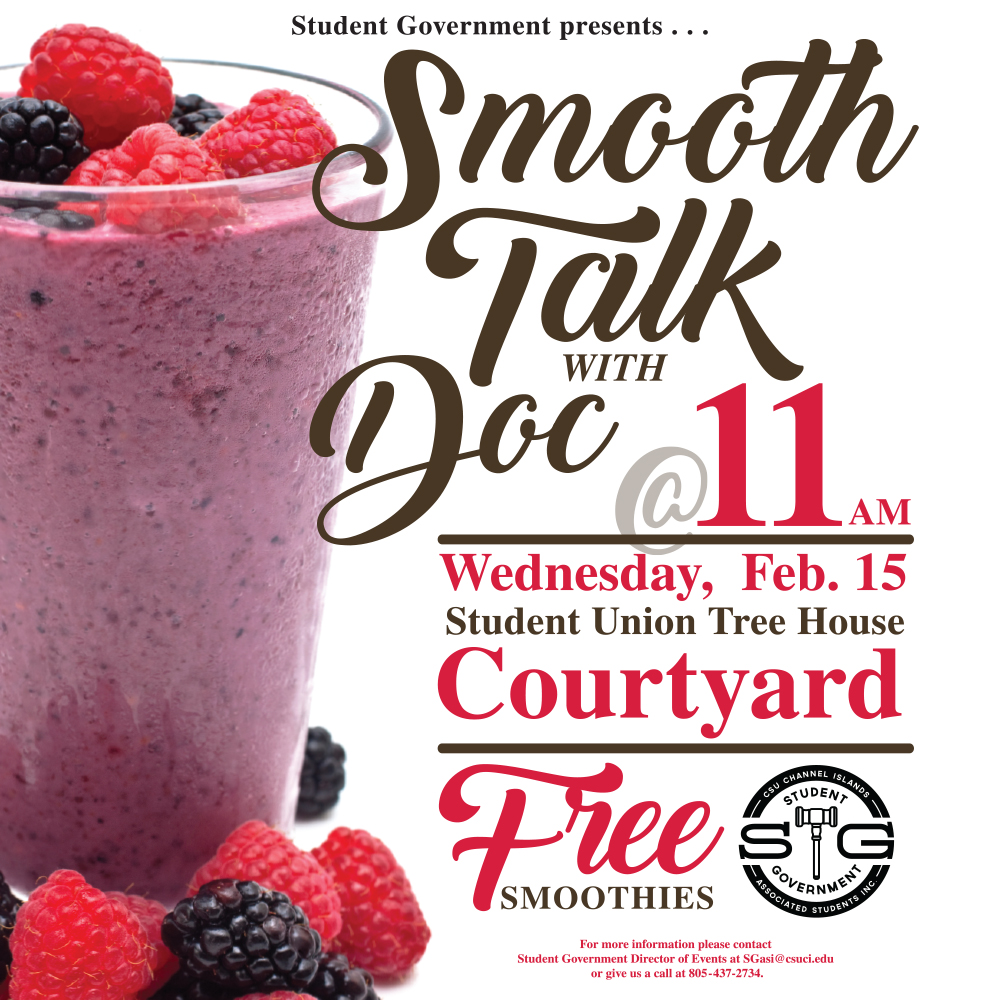 Questions and Answers Asked (MS Word, 16.5KB)
Eating on a Student's Budget
On March 8th from 12:00pm - 1:30pm in the Treehouse Courtyard (SUB courtyard) a panel talked about the importance of nutritious meals and acheiving them on a student's budget; this event was part of our noon forum series that we have had in the past.
Due to technical difficulties, no notes were taken for this event. If you have any questions about this event please reach out to us at SGASI@csuci.edu. 
Stand with Survivors: of Sexual Assault
On Wednesday April 5th from 12:00pm - 1:30pm in the Treehouse Courtyard (SUB courtyard) a panel of students, staff and faculty members spoke about resources that are available for people that have been impacted by sexual assaults and how you can be a support system if someone you care about is affected by sexual assaults. 
Legacy Awards
On Wednesday April 26th from 6:00pm - 8:30pm in the Grand Salon the Legacy Awards ocurred. This was an opportunity for students, staff members and faculty to be recognized for their great work. At this event Student Government presented our Maximus awards. To nominate someone or multiple people please go to http://asi.csuci.edu/legacyawards.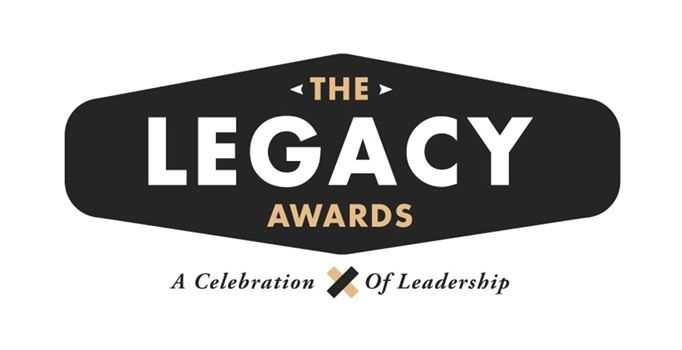 If you have any questions regarding these events, please email SGASI@csuci.edu. If you would like to stay updated about these events, please email SGASI@csuci.edu and mention that you would like to be added to our emailing list. Please check and follow our social media accounts to stay updated as well.